My 13-year-old grandson makes this recipe and it is absolutely delicious and so quick and easy.  It makes a great after school snack or summer vacation "go to" that kids can make on their own.  Give it a try and enjoy a treat when you're hungry for yummy chocolate cake!  My grandson tops it off with chocolate syrup when it comes out of the microwave.  Warm, gooey and delicious! I would also add a scoop of ice cream!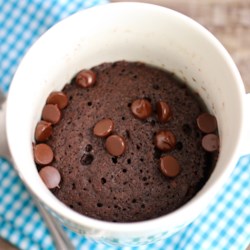 Ingredients
1/4 cup all-purpose flour
1/4 cup white sugar
2 tablespoons unsweetened cocoa powder
1/8 teaspoon baking soda
1/8 teaspoon salt
3 tablespoons milk
2 tablespoons canola oil or olive oil
1 tablespoon water
1/4 teaspoon vanilla extract
Directions
Mix flour, sugar, cocoa powder, baking soda, and salt in a large microwave-safe mug; stir in milk, canola oil, water, and vanilla extract.
Cook in microwave until cake is done in the middle, about 1 minute 45 seconds.
For the link to the above recipe, click here.